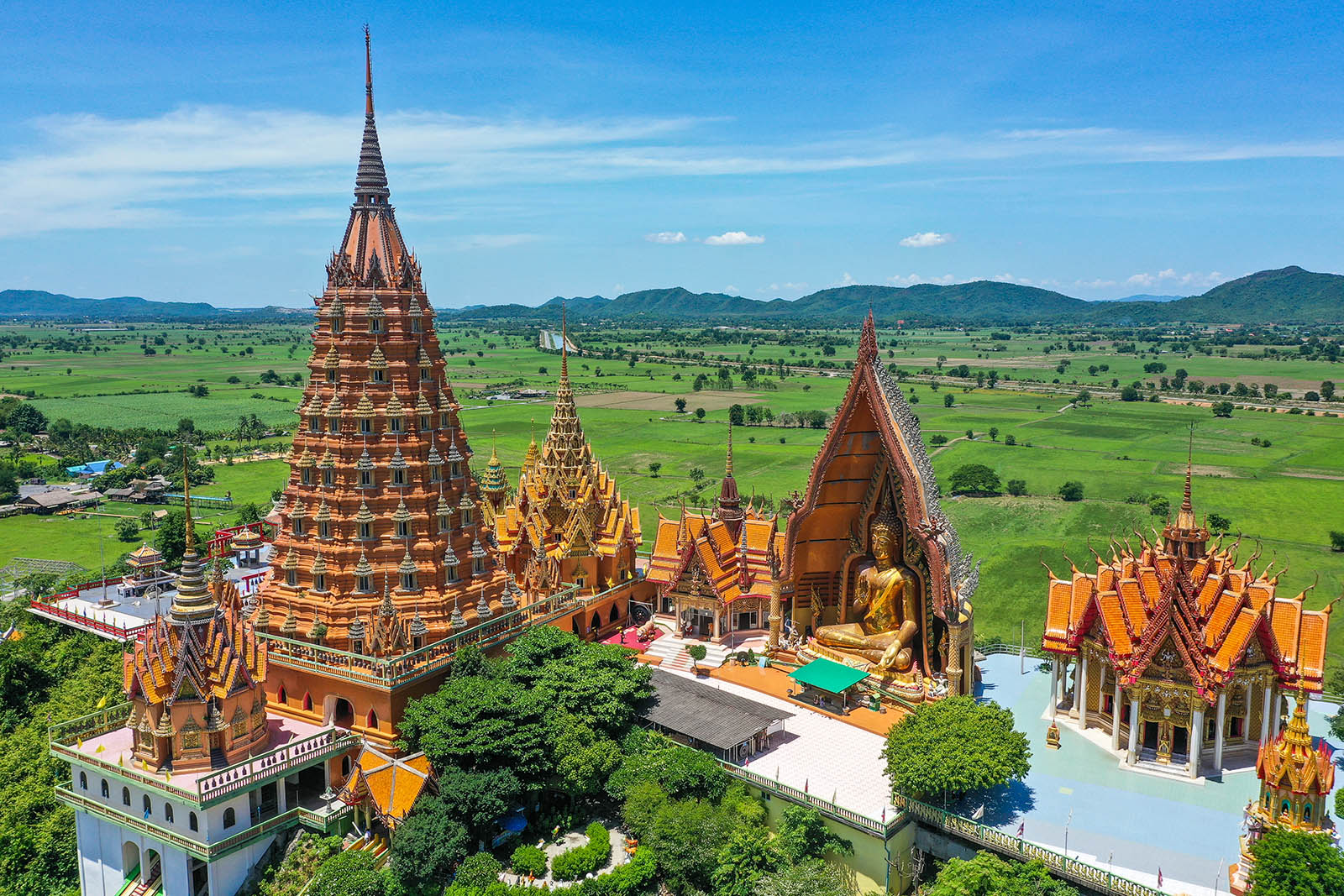 Travel Thailand : Kanchanaburi 5D/4N itinerary
For my trip in Kanchanaburi, I rented a car in Bangkok and divided my trip in 5 days/4 nights to cover as many attractions to photograph as I could. This was a tiring trip, but I made the most if it !
This was my itinerary for Day 1 : googlemaps link here.
1st stop : Wat Khao Sung Chaem Fa
This temple is not very famous with tourists but this is an hidden gem !
At the entrance you feel like you're in Japan with the hundreds of Torii gates going up to the main temple, passing some Ganesh and Big buddhas statues.
On top of the hill you'll find a reclining golden buddha, a huge statue of a monk, a bigger statue of a snake dragon spitting water in a pond full of fishes surrounded by trees and small japanese bridges.
It's quite a bit messy but it's perfect for nice photo opportunities.
You can also launch your drone easily from the parking, and because this temple is not crowded, you wouldn't bother anyone flying around.
2nd stop : Wat Tham Khao Noi & Wat Tham Sua
This is the main attraction and the most beautiful temple in Kanchanaburi.
It's composed of 2 different temples with 2 different entrances. Be prepared to climb a lot of stairs !
Wat Tham Sua is the main temple with the giant sitting buddha. I strongly suggest to climb on top of the biggest tower (on the left near the entrance) where you can have the best view of the whole complex.
Wat Tham Khao Noi is the chinese tower temple. It's less impressive than wat Tham Sua but it has great views from the top of the tower (I think 8 or 9 floors to climb though!).
In term of photography, I recommend to go there either for sunrise or sunset to get the best colours.
For drone, it's very simple to launch the drone from one of the parkings.
I also recommend to drive around the rice fields to get some views from far away. There are some good cafes like Rak Kanna Café or Meena Café which are very good for food, drinks and views of the temples.
This temple isn't very known by tourists as well but it deserves a stop.
There's quite a lot of steps to climb (outside and inside the belly of the dragon) but at the end you'll be rewarded by a very nice cave filled with Buddha statues.
If you want to continue, you can climb even more to the top of the mountain for the best view of the region.
For drone, very simple here : just launch from the parking lot.
One of the latest attractions in Kanchanaburi is this giant Rain Tree which is believed to be over 100 years old.
Not much to see here, so you can just walk around 5-10 minutes and go on your way.
Would be interesting to see from drone if it looks good or not.
5th stop : Wat Tham Khao Laem
This is a very quiet temple with nobody around except monks and workers.
At the time of the visit (june 2021), they were still working on the giant buddha, not sure when it will be finished.
They were a few lazy dogs and monkeys around the temple.
For drone, super easy, just launch from parking lot to get the best view of the big buddha and the mountain.
6th stop : Dedthodsaphak Restaurant / U Inchantree Kanchanaburi Hotel
Last stop for sunset is Dedthodsaphak Restaurant where you can have dinner the feet in the river.
For the hotel, I chose U Inchantree Kanchanaburi Hotel which was quite cheap (1,600 thb) with a very nice pool and restaurant by the river.
The photo on the left was taken at sunset from the hotel terrace.
Probably the most famous attraction in Kanchanaburi.
Frankly, except if you're interested by history, there's not much to see here. But if you have time, you can ride the train til the death railway bridge.
For drone, as it's quite crowded, I walked a bit further away on the river side to find a quiet place to launch it.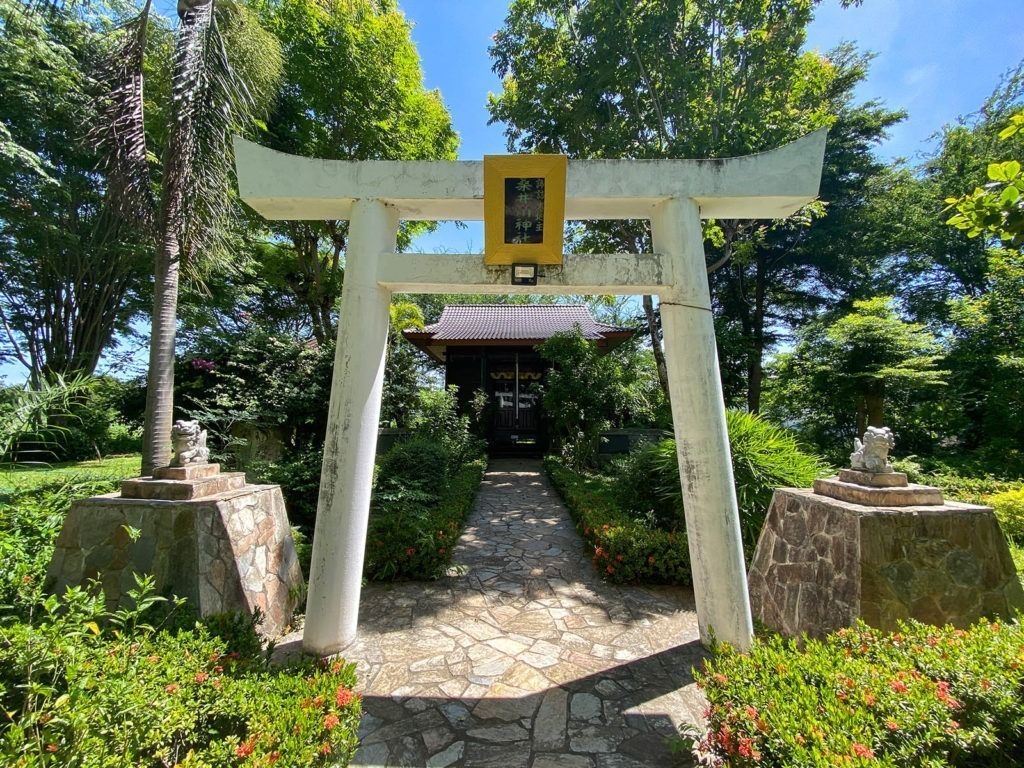 This park was made for the japanese community in Kanchanaburi so they have a little bit of home far away from home.
Not much to see here, so you can skip it if you don't have much time.
This cave is a must see !
Outside there are already very nice looking temples and buddha statues made with some kind of mud, very photogenic.
But the real attraction is inside where you can walk around a huge cave with buddhas and monk statues everywhere.
It's quite popular with locals, so expect some people around.
For drone, you can launch from parking lot, but the views are not super interesting.
Stop 4 : Wat Metta Thamrat
That chinese temple is a must see as well ! The big surprise of my day actually.
It's quite huge with some kind of big warehouse in construction, but when you go inside, there are some fabulous statues and traditional chinese decorations. Very impressive !
Stop 5 : Prasat Muang Singh National Park
This historical park is a bit like Phanum Rung in Thailand, or a mini Angkor Wat.
There's not much to see here, just 1 big temple ruin in the center and a few other smaller ruins around.
It costs 100 thb for the entrance and 50 thb for the parking.
I've launched the drone because there was nobody around at that time (during covid), but I'm not sure if it's allowed or not. So take some precautions.
Stop 6 : Death Railway Bridge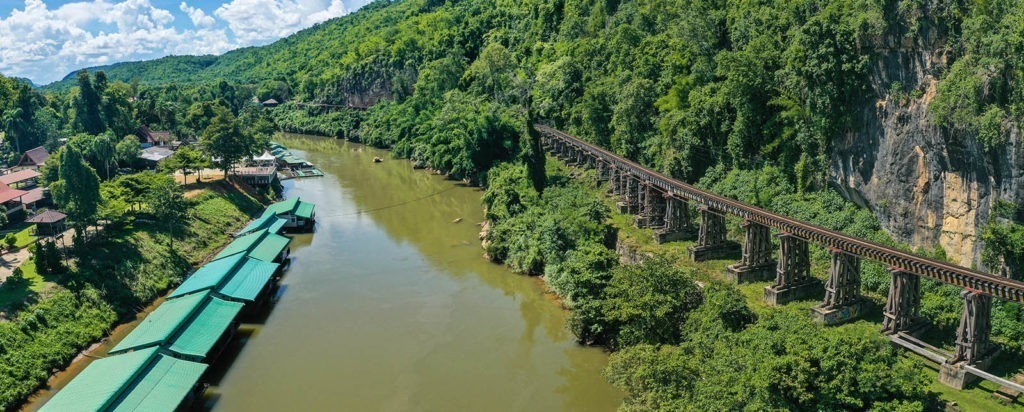 Another popular attraction, this bridge is in my opinion more interesting and photogenic than The bridge on the river Kwai.
From here you can ride the train or simply walk on the railway to access a cave.
Train timetables change a lot (especially during covid) so check the informations online first. When I was there, train was supposed to arrive at 15:15.
There are many places around where you can launch your drone above the river, no worries here.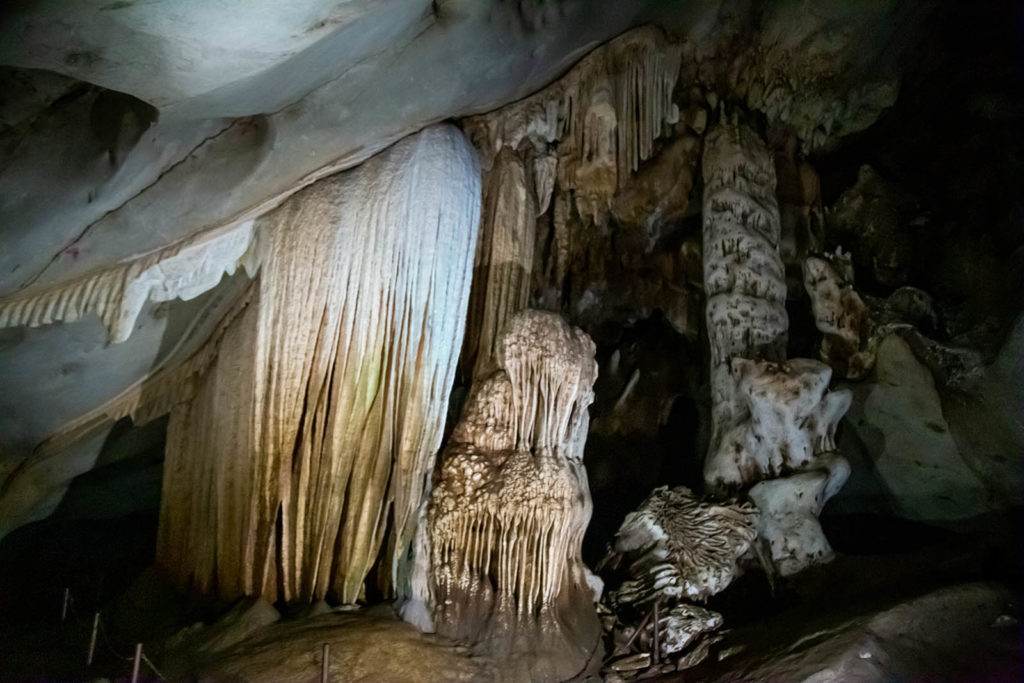 This cave was quite a disappointment for me.
First they charge 3 times more for foreigners (300 thb) and there's not much to see inside with not much lights as well.
The road to go there was quite bad as well, so unless you're a big fan of caves, I'd skip this stop.
Stop 8 : Home Phutoey River Kwai Hotspring & Nature Resort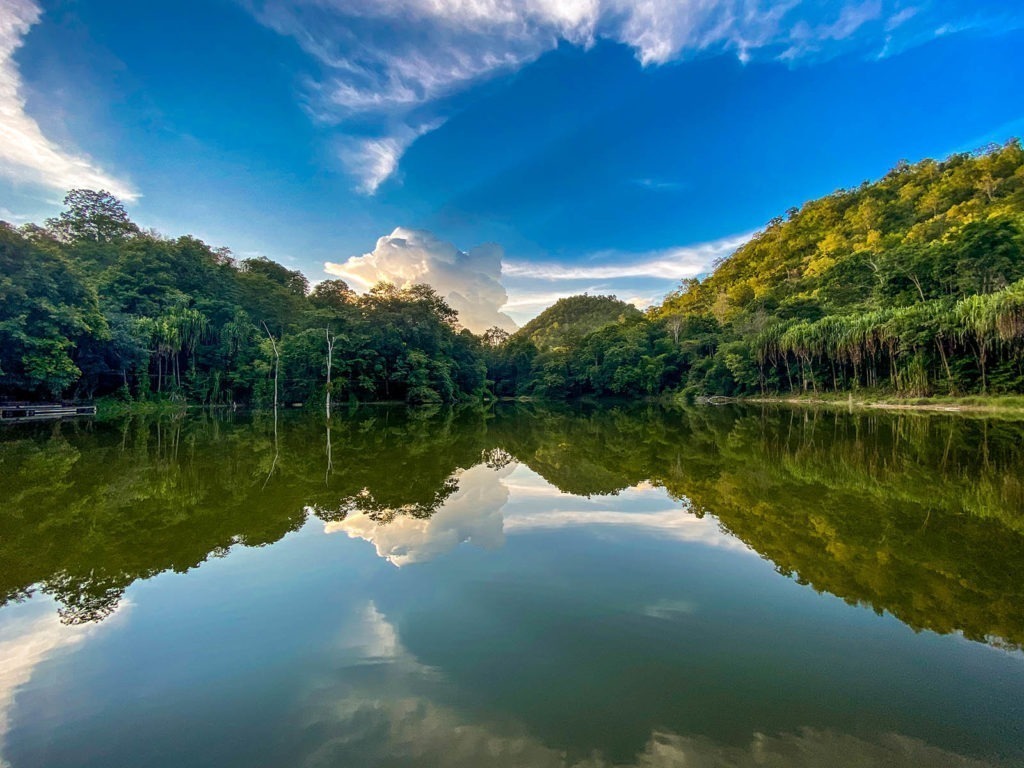 Last stop of the day : the resort.
Quite cheap as well (1,200 thb), this resort is quite nice with big rooms, not very modern but everything you need inside. But the best thing is the hot spring in the resort : few small cold and hot baths from 18 to 45 degrees and a big swimming pool overlooking a small lake at 35-40 degrees. After a long day driving and shooting, this was very appreciable.
Day 3 : Google maps itinerary here
Stop 1,2,3,4,5 : Closed
I wasn't very lucky here : Sai Yok Yai Waterfall, Hin Dat Hot Spring, Pha Tad Waterfall, Thong Pha Phum National park and Jogkradin Waterfall were all closed either because of covid or because of maintenance of the national park.
Hopefully we called the day before, so we just went directly to Sangkhlaburi and took our time to organize a small picnic at Mon bridge for the sunset.
Stop 6 : Underwater Temple Vajiralongkorn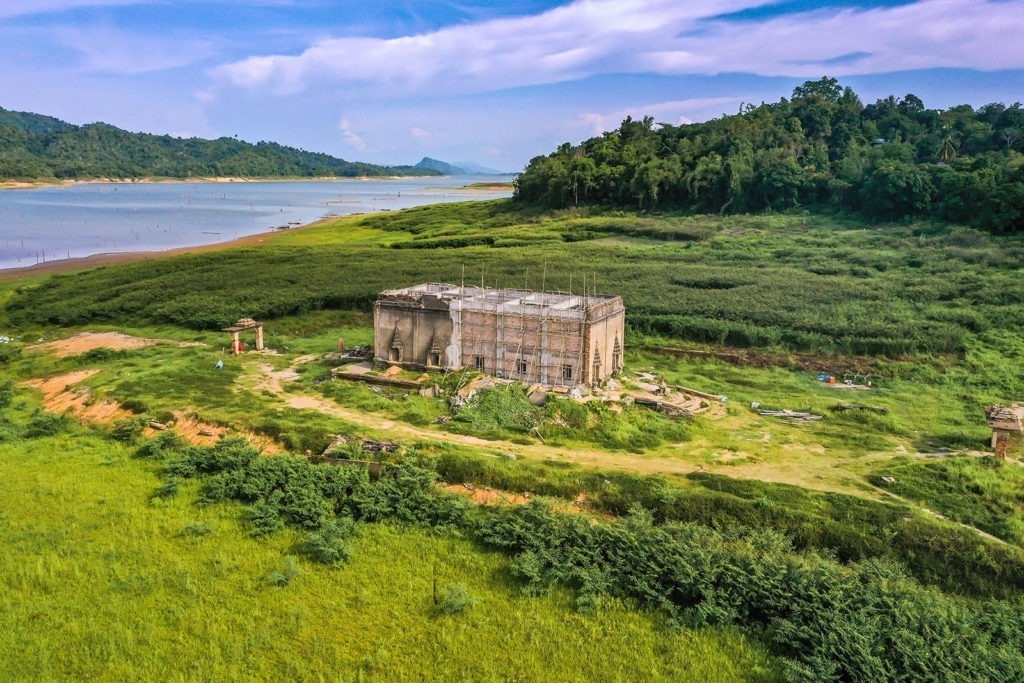 Here the sunken temple was not under water and was in construction. Local people propose to take you there by boat, but I just launched my drone from the end of the road behind the Stupa in Bodh Gaya and it was enough to take the shots (1,4 km away ! Quite impressed with my mavic pro 2 here).
It would be nice to check the place by boat when it's underwater.
Stop 7 : Phutthakhaya Chedi, or Stupa in Bodh Gaya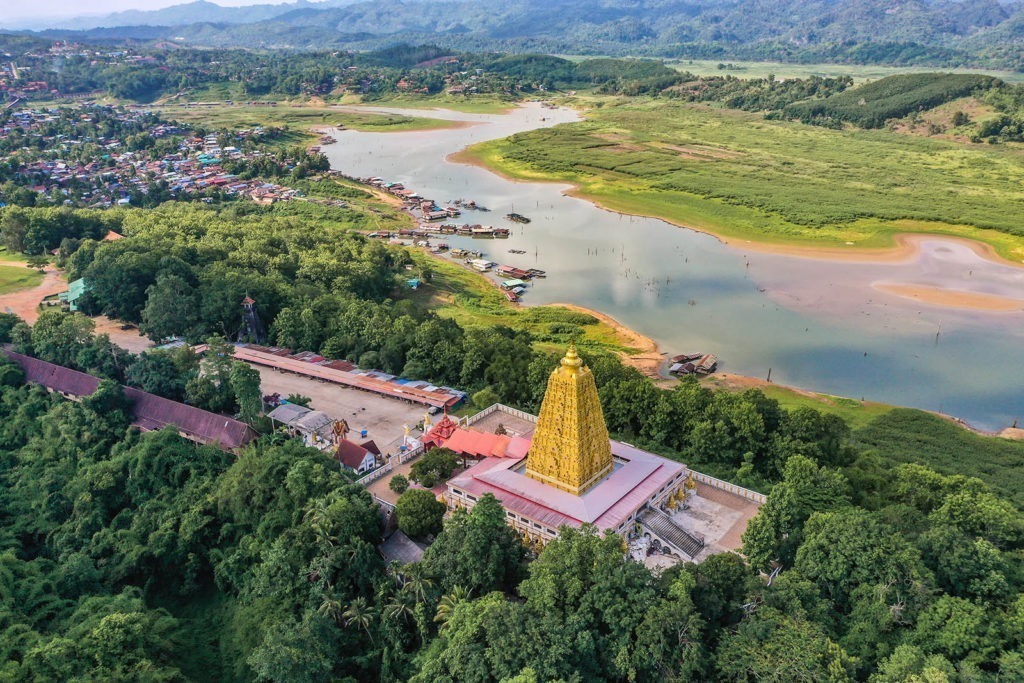 This stupa looks better from the sky than from the ground where you can see the river around.
Otherwise not much to see inside. There's a market normally near the entrance but it was closed due to covid when I was there.
There's a big parking where you can launch your drone easily.
Mon bridge was the highlight of my trip in Kanchanaburi !
We prepared a picnic on the floating bamboo bridge and wait for sunset which was fabulous !
Here you can launch a drone from anywhere, just check the sky as there are few other people who have the same idea during sunsets.
There are also small cafes and restaurants with good views around if you prefer not to picnic.
If I had more time, I would have added Wat Wang Wiwekaram, as I saw very nice pictures of it from drone afterwards.
I stayed in the Siriboonsampao Resort for 780 thb. Not recommended, can probably find better in the city. but for that price, it was ok.
Day 4 : Google maps itinerary here.
Stop 1 : Nang Kruan waterfall in Lam Khlong Ngue National park : closed due to covid.
Stop 2 : Huai Mae Khamin Waterfall
This waterfall was another highlight of my trip in Kanchanaburi !
I found it personally more beautiful than Erawan waterfalls which are also much more crowded.
It is made up of 7 tiers, the trail is divided into two sections: tiers 5-7 and 4-1. If you don't have much time, focus on the tier 4-1.
Bring your tripod for long exposure photos and some ND filters, you'll have some great results !
No drone possible or needed here.
VERY IMPORTANT : I took the road from the north to arrive at this waterfall, and that was NOT a road at all !!! I spent 2 hours driving on some rocky paths and I was lucky not to break my car. Even if you have a 4×4 wheel drive car, I wouldn't recommend to take this path.
Come from Kanchanaburi / Erawan waterfalls, the road is excellent that way.
Stop 4 : Erawan National Park and Tham Phra That Cave : Closed due to covid.
Not much a problem for me as I visited Erawan waterfalls a few years ago already. But you should definitely make a stop if you have time.
Hotel for the night : Good times resort (1,500 thb). Not recommended.
Day 5 : Back to Bangkok, Google maps itinerary here.
Stop 1 : Phra Pathom Chedi 
Phra Pathom Chedi is super impressive ! It's the biggest chedi in Thailand and it's a real wonder.
It's very beautiful either from the ground or from the air.
For drone, you can launch from the little park outside near the parking area.
Stop 2 : Wat Samphran / Dragon temple
I really love this temple, the dragon architecture is really cool !
It's a must stop for every drone user, and there's probably a big chance that you will encounter drone pilots on the parking lot just before sunset.
Go inside as well, climb inside the belly of the beast and access the top platform for some good views. Though around the view is mostly city, it's not the best.
Go for sunset to get the sun at the level of the dragon's mouth for some cool effect.
Stop 3 : Bubbles in the forest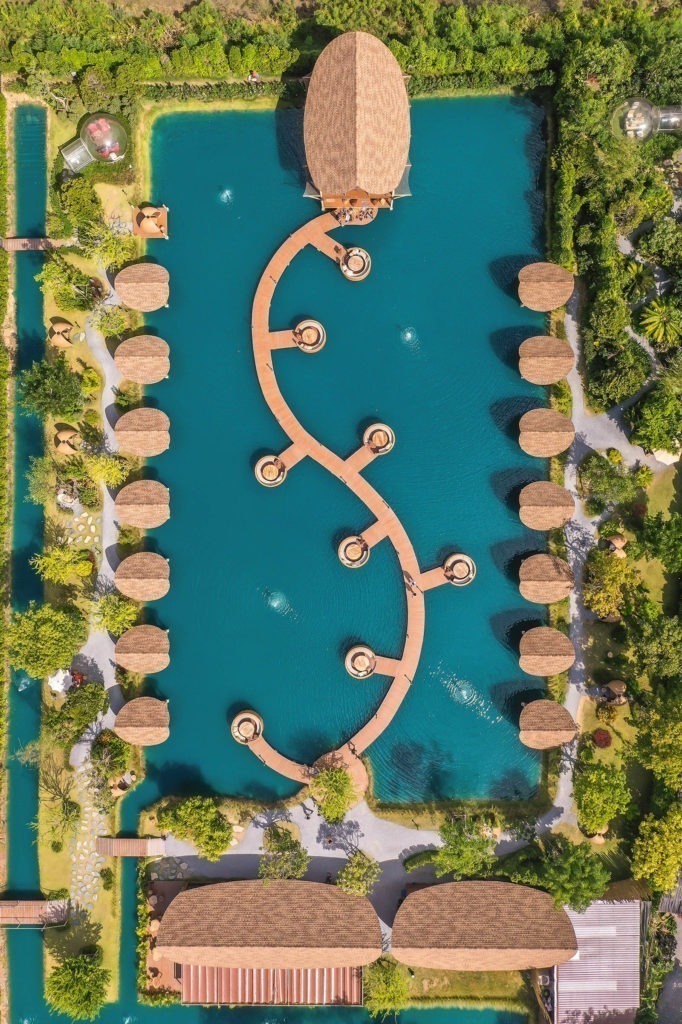 For a cool stop at a cafe reminding you the Maldives, you can stop at Bubbles in the forest cafe on the way back to Bangkok.
To be honest I didn't have the patience to wait for the 1 hour queue, so I just went to the parking to fly my drone 🙂
Share This Story, Choose Your Platform!