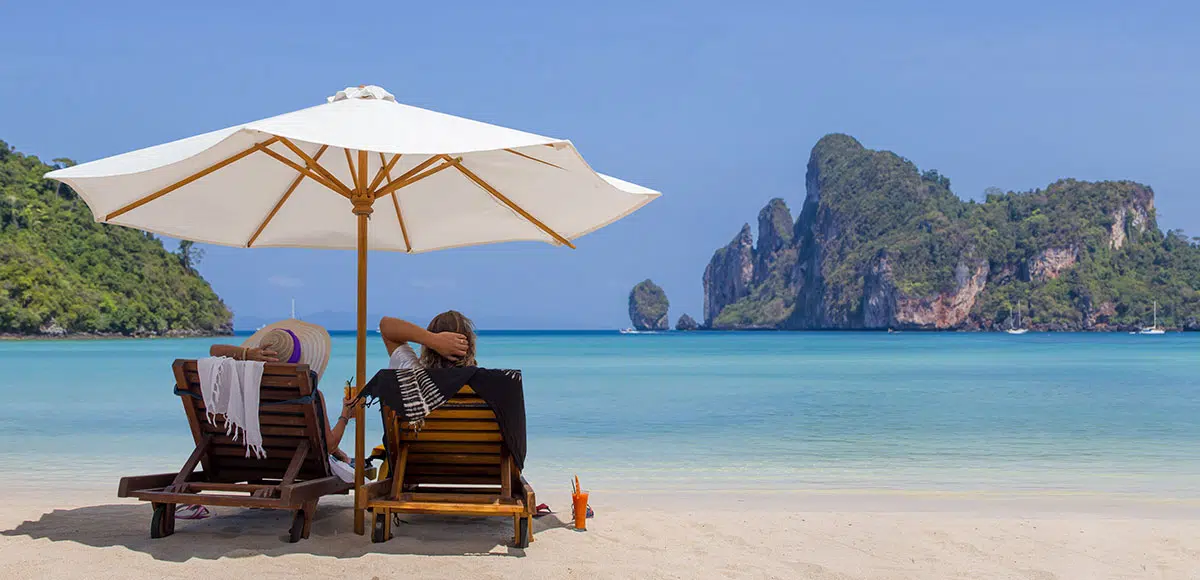 Top 10 things to do in Krabi
Whether you're looking for some of Thailand's most scenic beaches, pristine jungle or secluded coves, Krabi in southern Thailand delivers on a platter. In the heart of Krabi Province, Krabi Town offers a cheap and welcoming place with low-key nightlife and some of Thailand's most notable temples. Visit Krabi for all of this and more. Find more inspiration in our top 10 things to do in Krabi…
Wat Kaew Ko Wararam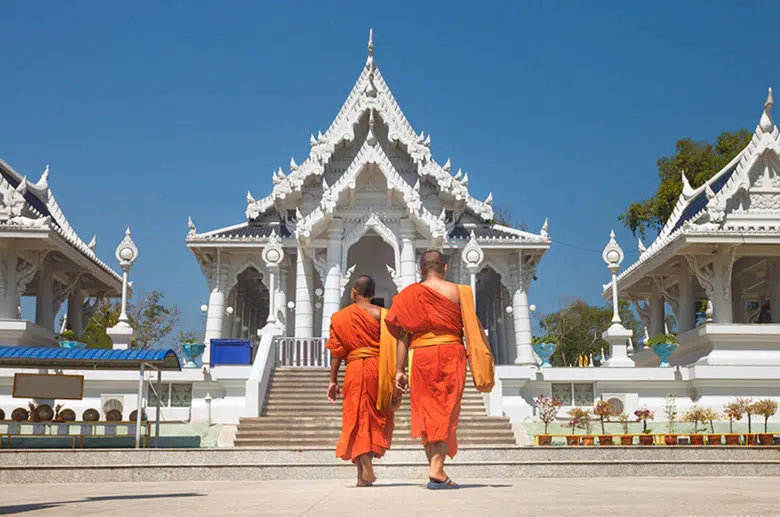 If you want a real Thai experience, you have to go see a temple when you visit Krabi! Wat Kaew Ko Wararam is right in the heart of Krabi town and offers a peaceful place to spend an hour or two on a hot afternoon. Not as well known as Krabi's most famous temple, Tiger Cave Temple, this wat is less frequented by tourists. In a way, therefore, you will be able to enjoy a more authentic experience when you visit it. The beautiful architecture is mostly covered in a glossy white paint that gives the temple a pure and clean vibe, while some decorative elements like the golden dragons that line the staircase add detail and color to the whole.
Inside you can see beautiful wall paintings as well as a golden Buddha and if you are looking for a place to cool off you can often feel a little breeze blowing through the temple if you stand in the right place. All this, added to the absence of other tourists, gives this temple an atmosphere of relaxation and serenity. Admittedly, Wat Kaew Ko Wararam may not be as spectacular as other temples, but if you enjoy Buddhist culture, a stop at this Krabi landmark is highly recommended.
Phi Phi Islands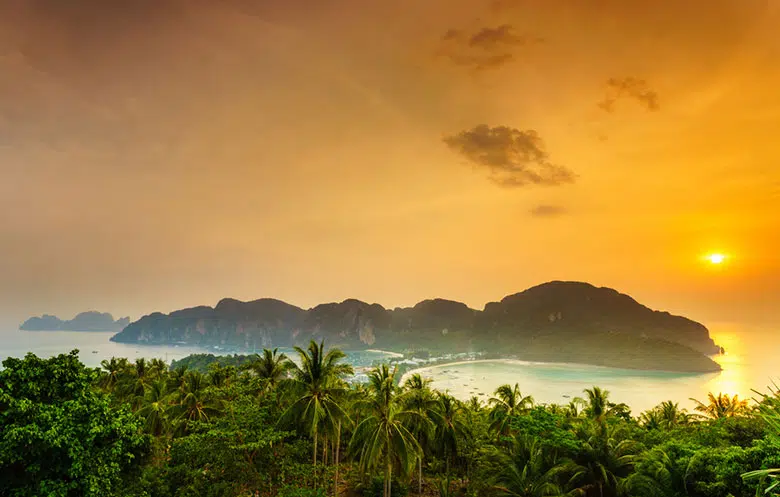 The Phi Phi Islands are one of Thailand's best-known island groups. They are located between Phuket and the mainland and are part of the province of Krabi. That's why we've included them in this list of the best things to do in Krabi. Board a speedboat or long tail boat from Krabi Town to reach the Phi Phi Islands and set off to enjoy the sublime beaches and limestone karsts that rise majestically from the sea. Phi Phi Don and Ko Phi Phi Lee. Most of the other islands are just limestone cliffs.
If the Phi Phi Islands are so well known, it's because they served as a filming location for the film "The Beach" with Leonardo DiCaprio. The popularity of the film greatly increased the number of tourists as well as intense development of the islands. But some areas are part of a national park and therefore protected, which has helped a lot in keeping its crystal clear waters and keeping the landscape relatively untouched. Today, you can come to this Krabi tourist attraction for snorkeling, kayaking and diving, spending time on the beach or exploring the islands by boat.
Krabi Weekend Night Market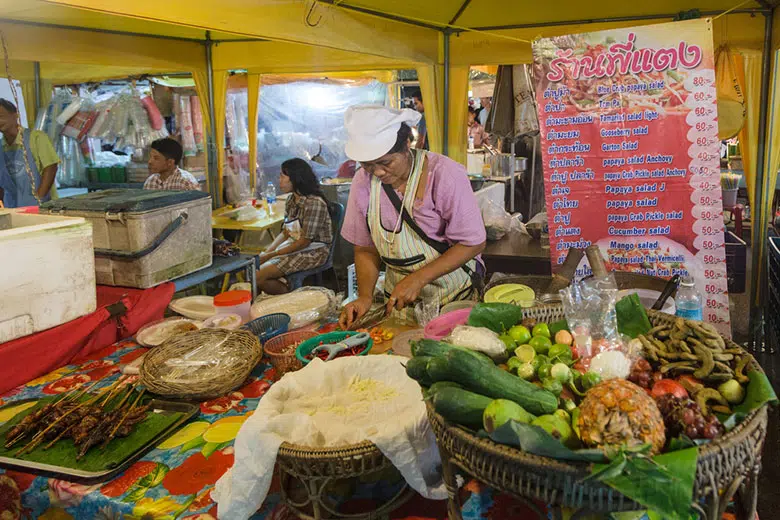 No list of things to do in Krabi could be complete without including at least one market or shopping area. Walking Street in Krabi is particularly popular, but it's the Weekend Night Market that we've decided to highlight because it has a lot of amazing local foods, great souvenirs and a nice variety of things to buy. The many foods on offer mean that one could easily spend the whole evening at this Krabi attraction. Local dishes, all at surprisingly much lower prices than elsewhere in Thailand, are served in the market. The best way to try as many things as possible is to ask for small portions. That way you're not full after the first thing you try!
Besides food, there are also plenty of places to buy souvenirs and other things, including crafts and clothes. Again, everything is offered at a very good price and if you are spending the evening there, you can sit in the restaurant area and enjoy one of the shows that are often held there. It can be a show with fire, music or dance. The Krabi Weekend Market is held on Fridays and Saturdays and starts around 6 p.m.
Railay Beach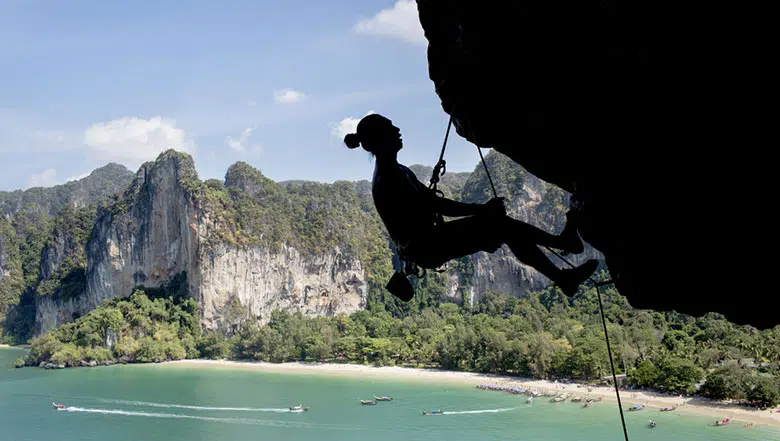 If you do a bit of rock climbing, you've probably heard of Railay Beach. It is a very famous place for rock climbing because of the limestone cliffs that surround the beach, the same ones that Krabi is so famous for. If you are not into rock climbing but you don't know what to do in Krabi, Railay Beach is a very nice place to visit. Located on a small peninsula between Krabi and Ao Nang, Railay Beach is only accessible by boat. But there are still places to sleep or buy food and drink, so it's not as quiet a beach as you might think. And yet, it's a known place to spend some time to relax and, if you want something a little more sporty, you can walk to Railay
Beach viewpoint with a relatively strenuous climb. The path is well marked but you will need to bring water and comfortable shoes to be able to climb properly and safely.
Back on the beach, there are restaurants and bars on the east and west parts of the beach and you will surely find that the beach and facilities on the east side tend to be a little livelier.
Tab Kak Hang Nak Hill Nature Trail
If you are an energetic tourist looking for things to do in Krabi, you can add the Tab Kak Hang Nak Nature Trail hike to your list. This hike is made for people who are prepared and in good physical condition. It is difficult with the heat of the day and a humidity level as high as in Krabi but, like many other hikes, if you inflict all that on yourself, it is to enjoy a view spectacular at the end and you won't be disappointed because it's worth it once you get to the top!
The trail takes you uphill for 3.8 kilometers (2.3 miles) and signs say it takes about 2 hours to get to the top. Maybe barely less to go down. So still plan enough time. Some parts are really steep and due to the humidity you will sweat very quickly. So remember to bring enough water with you. At the start of the hike, you will find guards who will charge you the entrance fee. In general, do not hesitate to ask them any questions you may have, they will be happy to answer them. Of course the best part of this hike is the view from the top. There are no obstacles and you can see for miles!
The Floating Village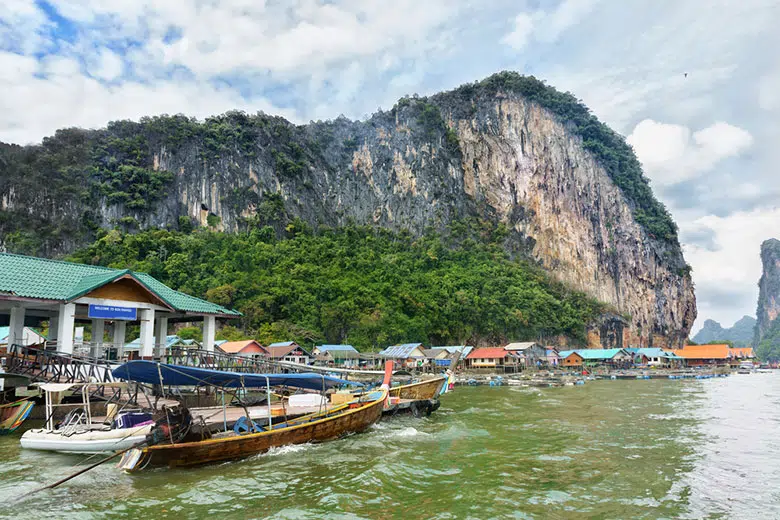 A truly unique attraction in Krabi. The floating village (locally known as Koh Panyi) is highly recommended for a half-day trip from Krabi. This floating village was established towards the end of the 18th century by nomadic Malay fishermen and remained dedicated to fishing for hundreds of years. Today, fishing is still the basis of the way of life of the 360 ​​and a few families who live here year-round. But the village is now turning to tourism to help residents get by financially. Visit the floating village to experience this unique way of life – you'll see a truly secluded place with lots of small floating structures built against the cliff face. You will find several places to buy souvenirs or other items and, if you want to stop for a meal, there are also restaurants. The main criticism that one could bring to this Krabi attraction is that everything is expensive (if you want to buy souvenirs or food for example). The prices are well above the Krabi average but, if you take into account that you are paying to support the traditional fishermen's way of life, it's not that bad. Don't miss the floating football pitch in the village and ask to know its history! The main criticism that one could bring to this Krabi attraction is that everything is expensive (if you want to buy souvenirs or food for example). The prices are well above the Krabi average but, if you take into account that you are paying to support the traditional fishermen's way of life, it's not that bad. Don't miss the floating football pitch in the village and ask to know its history! The main criticism that one could bring to this Krabi attraction is that everything is expensive (if you want to buy souvenirs or food for example). The prices are well above the Krabi average but, if you take into account that you are paying to support the traditional fishermen's way of life, it's not that bad. Don't miss the floating football pitch in the village and ask to know its history!
Emerald Pool
Known as Sa Morakot in Thai and Crystal Pool in English, Emerald Pool is a lovely natural pool filled with pure spring water. Located in the Khao Phra Bang Khram Nature Reserve, this large natural pool is worth it for two things: an amazing photo opportunity and a place where you can swim! Enjoy hiking the winding trails through the Khao Nor Chu Chi forest to get there. The path is not particularly long but, with the heat of the day, the hike can be quite difficult if you are not too fit. It is less than a kilometer and you can enjoy the sights and sounds of the jungle on your way there. When the jungle opens up on Emerald Pool, you are going to have an incredible view: a large natural swimming pool which seems almost unreal with its brilliant color. There is an entrance fee to pay to access the site including swimming in the pool, but it is very reasonably priced. It becomes more interesting if you spend at least half a day there exploring the other trails, the many mini-pools and the nearby streams. There are changing rooms and restrooms in the parking lot near Emerald Pool.
Phra Nang Beach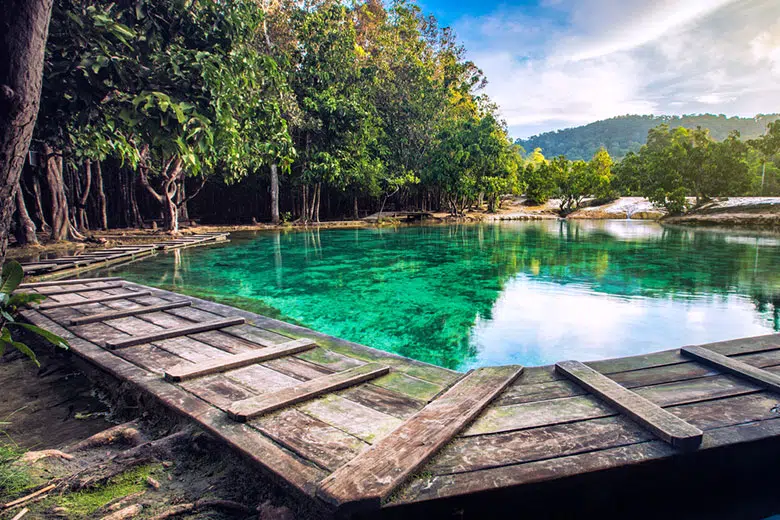 Although Krabi Town is the main town in the area, Ao Nang is another popular place for tourists to go. The town itself is much smaller, but many visitors come here for Phra Nang Beach. If you are looking for one of those small secluded beaches with hardly anyone, you are wrong! As it is very accessible, it is easy to go to Phra Nang Beach but that also means that many people go there. Yet, even when crowded, its incredible scenery makes this beach truly different from others, making it one of the things to do in Krabi.
There are several caves to explore, carved into the surrounding rocks. If you are an experienced climber, this is an amazing place to put your skills to the test. The beach is covered with white sand and its waters are crystal clear. It is an ideal place for swimming and snorkeling. Although there are quite a few people on the beach, it's rarely as crowded as some other beaches in Thailand, and if you visit earlier or later in the day, it's much quieter.
Khao Phanom Bencha National Park
There are several national parks around Krabi, both land and sea. We chose to include Khao Phanom Bencha National Park on our list of things to do in Krabi because it's an excellent 'dry land' park that protects pristine rainforest and is home to plenty of wildlife. You can sign up for an organized excursion from Krabi or come on your own, guided tours are not necessary to visit the park. Keep your eyes open to spot the 200+ species of birds that live in the rainforest of this national park. There are also many animal species that you may be lucky enough to see, including clouded leopard and several species of monkeys.
The park is also well known for its waterfalls which are very large although not particularly high. Huai Pour Falls is impressive with its five waterfalls and drops about 75 meters. Other attractions in the park include caves and numerous hiking trails. It is also a famous place to take an elephant ride. Khao Phanom Bencha National Park is located about 20 kilometers (12 miles) north of Krabi town.
Tiger Cave Temple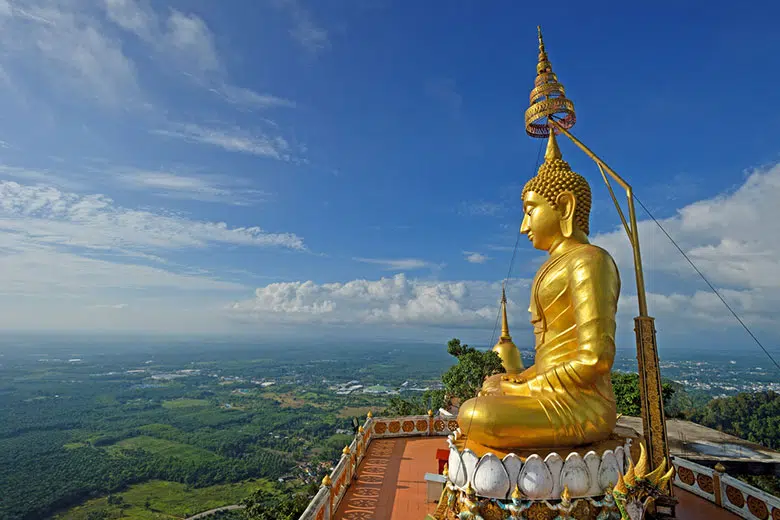 The best thing to do in Krabi is not a beach or a boat trip, but a temple. Tiger Cave Temple is one of the holiest Buddhist sites in the province and is Krabi's most popular tourist attraction. Despite this, not everyone can visit Tiger Cave Temple because of the exhausting walk to get there. Officially named Wat Tham Suea, this temple is reached by climbing 1,237 steps. So you will need to be in pretty good shape to be able to do this. But, as with most climbs, the reward once you reach the top is well worth the effort! You will be greeted by panoramic views of the surrounding area, including Krabi town and of course you can see the temple as well. As its English name suggests, there are caves at the top, one of which has tiger paw prints on the walls. At the top of the mountain, there is also a large Buddha statue as well as several other temples.
If you are planning to visit this Krabi attraction, plan to take plenty of water with you and remember that this is a religious site. Short or sleeveless clothing is not permitted for women. You can hire a sarong if you are not dressed appropriately. As you climb you will see lots of monkeys. They may look cute, but it's best not to approach them.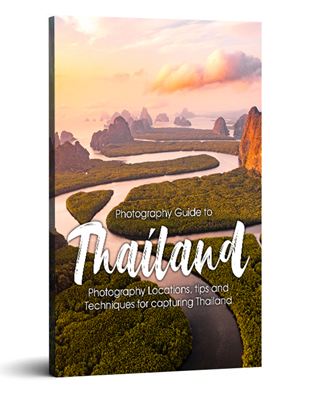 If you'd like to see more beautiful places in Thailand, check my Photography Guide to Thailand
with 418 pages covering in details all the most photogenic temples, landscapes, and much more!
Share This Story, Choose Your Platform!